Residential Blown-In Attic Insulation Near Cypress, TX
How much of your comfortable climate-controlled air is lost right out of your attic? Proper insulation in an attic reduces demands on home cooling systems in the hot and humid climate of Cypress, TX, and keeps residents more comfortable. Blue Label Services provides expert blown-in attic insulation services that both improve indoor comfort and produce savings on energy bills. We're experts at insulating homes and are ready to improve the energy efficiency of yours with attic insulation services. Call us today at 832-734-8277 to get started!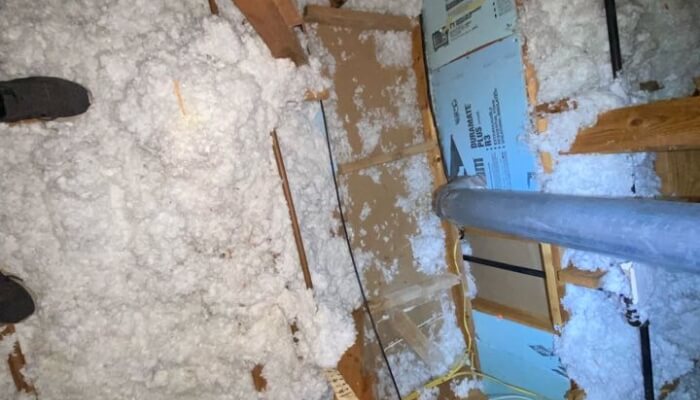 Our Insulation Services
We provide insulation services in and around Cypress that are an affordable upgrade to your home. Improved insulation will pay off for years with modern materials that combat the heat that we experience in this suburban community. Having proper insulation might even make your air conditioning system last longer because of reduced strain on the equipment.
A qualified technician from Blue Label Services will evaluate your home for air leaks and other types of issues before assessing the state of your home's existing insulation and ventilation. After identifying your needs, we'll recommend ideal products for sealing drafts and insulating attics. You can depend on us to provide access to the highest-quality modern insulation materials on the market.
We offer:
Loose fill blown-in insulation
Fiberglass batt insulation (also known as blanket insulation) for vertical walls in the attic
Could My Home Benefit From Added Insulation?
Insulation is an investment in your house that comes with a return. What you need to know is where you're at today to determine if you need to add more insulation to your attic. You may need more insulation in the following cases:
The current insulation in the attic ceiling is less than 11 inches thick. Many homes we service have only 4 inches of insulation in the ceiling with an attic above them. This equates to about an R10 to R13.
Less than R30 insulation is present, which is the minimum you want in your home to maximize the benefits of lower energy bills and improved comfort in your home. Most new homes are being insulated to an R40 or better.
Some homes have only batt, or blanket, insulation in the ceiling. Blown-in insulation helps to build a barrier against that hot attic air when installed on top of the batt insulation.
You may also want to factor in that insulation is not the only way to reduce your energy bills and be more comfortable in your home. Some other comfort issues can include:
Your cooling and heating equipment could be very old and not efficient.
Your ductwork could be leaking cool air into the attic instead of channeling it into the home.
Your return air vent could be too small to allow the cooling system to operate at its best efficiency. We see this all the time and have improved the comfort in the home and reduced energy bills just by adding another return air to the cooling system.
There could be openings in the attic allowing hot air down your walls.
Precise Installation Services
Our insulation services will ensure that you get the greatest R-value level of protection. We'll install materials appropriate for your attic space. During the process of insulating your home, we'll pay close attention to ventilation needs and vapor barriers. These elements are critical for delivering optimal results and preventing material deterioration down the road. The trained technicians at Blue Label Services will manage every detail of a successful insulation project.
Soffit to attic ventilation is a critical component of a properly blown-in insulation job. Baffles are installed to prevent blocking the air at the soffit from moving to the upper attic and roof vents. Additionally, every blown-in insulation job should have rulers attached throughout the attic to ensure the proper amount of insulation has been added and is distributed evenly.
Your Local Professional Attic Insulation Company in Cypress, TX
Ready to have Blue Label Services come out and perform a complimentary energy analysis on your home to see how new attic insulation would benefit you? We'll happily discuss options for reducing your energy consumption and making your home a more comfortable place to enjoy! Connect with us today!