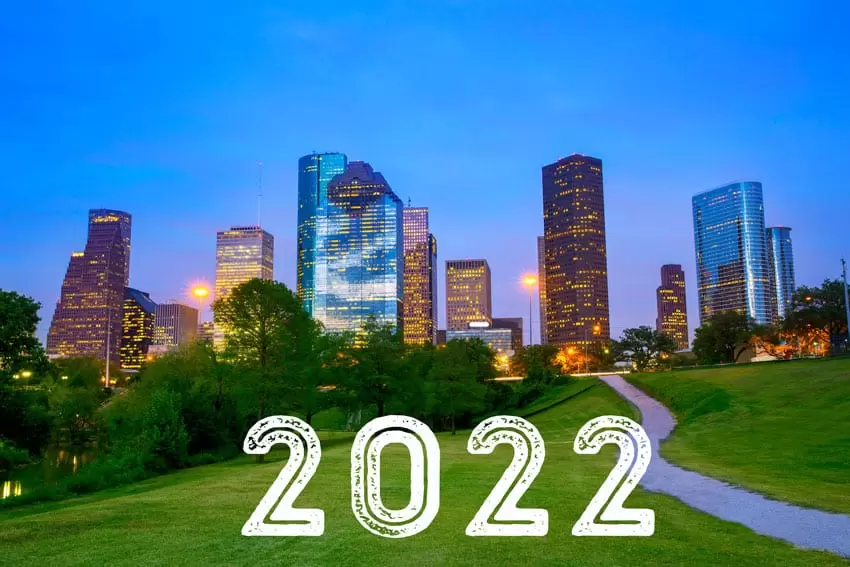 Blue Label Services presents:
Resolutions You Can Achieve!
Happy New Year from Blue Label Services. We counted down, and watched the ball drop, but we never drop the ball on providing you, our loyal customers in Cypress, TX with reliable heating and cooling solutions throughout the year. As much as you rely on us always doing our best, we are constantly striving to be better. That's kind of the spirit of the new year, isn't it? Though we all deserve a big pat on the back for making it through a couple of very challenging years, it's a wonderful time to take steps forward in our own self-development and evolution. Here are a few fun ideas we found to level up, locally.
The Houston Area is rich in many ways, and one of those ways is our natural resources! Lace up a pair of Timberlands and set forth on a fresh air adventure. Exercising is so much more fun when there's a view, and the possibilities of a brand new year are so picturesque when surmised from the vistas or bridges of Buffalo Bayou Park, or Lake Houston Wilderness Park. Get inspired at:
Need someone to hike with? Check out one of the many groups on meetup.com and make some new friends in the process!
Improve
You're awesome just the way you are, but all of us can benefit from continuing to grow every day. Would you like to read more, spend a little more time taking care of yourself with naps, budgeting a massage once a month, or volunteering someplace that could use your help? (see our November blog for some super deserving charities around Cypress.) Resolve to make a small but meaningful change you can be excited about, and take your life to the next level.
Chill
Stress is pretty much the culprit for all that ails us. Our immune systems, our mental health, even our waistlines are affected by the fight or flight cortisol released increasingly more often (and unnecessarily) as a result of our busy tech-driven, media-exacerbated lives. Choose to disconnect, even once in awhile, and take control over your own stress levels. You know the bad guys win if they manage to stress you out! Why not try a meditation class? The Sahaja Meditation studio in Houston offers many *free* meditation classes, and according to their website, "A new scientific study…reveals that regular practitioners of Sahaja Yoga meditation have larger (around 7%) grey matter overall. In addition, the parts of the brain which are responsible for attention, self-control, emotion control, compassion, and introspection are more developed. Given that grey matter declines with age, this means that regular practitioners of Sahaja Yoga have younger brains." You can read the full study and get the schedule at: https://www.houston-meditation.org
Course Horse offers in-person and online classes in a variety of subjects from art, cooking, tech and professional, to life skills, performing arts, language and fitness, as well as offerings for kids! Finding a new interest, perhaps outside your comfort zone, makes life more interesting, and you'll be more interesting…to yourself! Have fun. If it feels a little awkward, that means you're doing it right!
We also think you're doing it right by leaning on Blue Label Services for all of your heating, cooling and indoor air quality needs. We look forward to taking you comfortably into 2022, and we're always here for you at (832) 968-8630
May the new year bring happiness, health and abundance to you and yours!