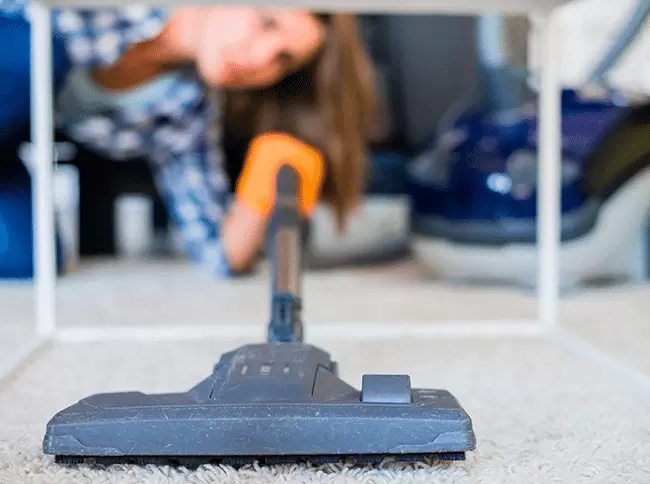 If you read our blog, "The Filter Dilemma", from May, 2020 you learned about everything from the right MERV Filter for your home, to what kinds of dust and debris different types of filters can trap, to what happens to the dust they can't. We at Blue Label can help identify IAQ problem sources (pollen, mold, bacteria, viruses, and countless other airborne particulates) to help determine a great solution for you. But, in the meantime, and in the spirit of helping you improve your home's Indoor Air Quality (IAQ), we thought we'd show you some ways to improve your home's IAQ before we even arrive!
Dust in the Wind, Gold Dust Woman, Another One Bites The… "Dust" is great in our music. Not so much in our homes. Now that our homes have become our centers of staying healthy, the importance of your home's IAQ can't be overstated.
Let's start with DUST.
Dust Abhors a Vacuum
Dust isn't just dust. It's also a hospitable environment for the microscopic mites bearing its name and many other unhealthy particulates. Reduce this source of lung irritation by dusting and vacuuming once a week with a sealed vacuum, with a HEPA filter.
Too Dry, Too Damp, Just Right
Striking the right balance of humidity in your home is complex, but important to your IAQ. Take steps (call us) to keep your humidity between 35-50 percent for optimal IAQ. You can use a dehumidifier or your own HVAC system (just make sure the ducts are clean.) A professional HVAC Duct Cleaning will also keep your units running efficiently and smoothly. The best thing is, those mites we were just talking about can't survive in dry climates.
Sleep Dust-Free
Getting quality sleep is crucial to your overall health. Sleep more soundly by covering your mattress and pillows with allergen impermeable covers. Those covers, combined with bedding washed once a week in hot water (130-140 degrees), and a thoroughly vacuumed environment, will all but eliminate dust mites from your precious dreamtime.
Go Bare
It may be cozy, but carpet attracts and traps more dust than a bare floor. If you can, replace wall to wall carpeting with bare floors, which are easier to keep clean.
Wipe It Away
A damp cloth is the most effective way to trap and eradicate dust. While the look of a feather duster is oh so French Maid chic, dry dusters stir up more dust than they trap. And who says a damp microfiber cloth isn't chic?
Poor IAQ Is No Joke. Take It Seriously.
We can help you put an end to airborne agitators. Call us at (832) 968-8630 or fill out the CONTACT US option on our website: www.bluelabeltoday.com for an in-home air quality test, at no charge. Blue Label Services has been serving Cypress, TX for many years, delivering reliable indoor air quality services, and more. Here's to dust biting the dust in 2020!