Furnace Tune-Ups Near Cypress, TX
While Texas isn't necessarily known for "winter" weather, it does get pretty chilly here. When the temps drop, will your home's heater be ready to handle the cold outside and keep you warm and comfortable inside? With regular heating maintenance from Blue Label Services, you can be sure your home's heating system will run strong when you need it most. Connect with us today at 832-734-8277 to get on our schedule for tune-up service!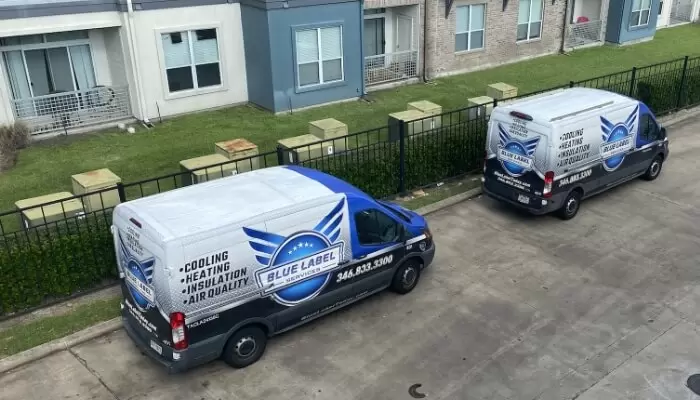 Why You Need Heating Maintenance Service
Heating maintenance is an essential service that helps keep your system running smoothly and efficiently all winter long. Annual heating maintenance is important for several reasons, including:
Improved Efficiency
By having your heating system serviced regularly, you ensure it's running at peak efficiency. This means that it won't have to work as hard to heat your home, which can result in significant energy savings over time.
To Prevent Costly Repairs
Regular maintenance can catch small issues before they become major problems. This will prevent costly repairs from happening down the road and ensure that your heating system is ready to go when you need it most.
To Extend Lifespan
By taking care of your heating system with regular maintenance, you lengthen the lifespan of your unit. Because you won't have to replace your heating unit as soon, you'll save money in the long run.
Always Quality Work With Blue Label
At Blue Label Services, we treat our customers like family. We believe in providing exceptional customer service and quality workmanship on every job, each and every day. Here are some reasons why you should partner with us for your heating system maintenance needs:
Complete System Report Card: With every furnace and heat pump tune-up service, we give you a complete system report card that outlines the health and performance of your heating system. This allows you to stay informed about the condition of your system and make informed decisions about repairs or replacements.
Upfront Pricing: We believe in transparency when it comes to pricing. When it comes to any and all of our services, we offer upfront pricing so you'll know exactly what you're paying for before any work is done.
Open Communication: Open communication with our customers is essential to our core values. If we find an issue during your service, we'll communicate with you clearly and honestly about what needs to be done, whether it's an easy repair or a full replacement.
Blue Diamond Club Membership: We are happy to offer membership in our maintenance plan service. Members receive not only annual furnace tune-ups, but discounts, priority service, and more!
Blue Label for Expert Heating Maintenance
Regular maintenance is an essential service that helps keep your heating system running efficiently and effectively. At Blue Label Services, we offer professional home heating maintenance services that will exceed your expectations! Our customers are always treated like family. We provide complete system report cards with every furnace tune-up service that we do so you'll know just how well your unit is performing at all times. If you're interested in scheduling a heating maintenance service, please contact us today. Our team of expert HVAC technicians is ready to help you keep your heating system running smoothly all season long!