New Home Heater Replacements Near Cypress, TX
When the weather outside gets chilly here in Texas, many units simply are not ready to handle the cold weather. You need a trusted HVAC company to help install your new furnace or heat pump when your old one fails. Blue Label Services provides expert heating installation services in and around Cypress, TX. We are the partner you are looking for when it comes to reliable home heater replacement services. With incredible guarantees, free estimates, and amazing customer service, you'll learn why it's always a good day at Blue Label!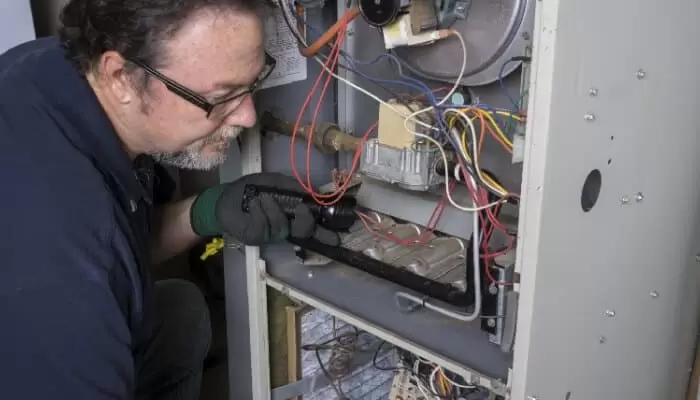 When Is It Time to Replace Your Heating System?
Sure, your heat goes out and you know the system isn't working the right way, but how do you know if it's time to repair or replace? The decision to replace can be a challenging one. Here are some signs that it may be time to consider a new heating unit:
If your furnace is more than 15 years old, it may be time to consider a replacement. Older units tend to become less efficient and require more frequent repairs, which can be costly in the long run. Experts agree that investing your money into a new, more efficient heater instead is a better course of action than throwing money into an older unit that may quit working altogether.
If you hear unusual sounds or notice unusual smells coming from your furnace or heat pump, it may be time to consider a new unit. Sounds like rattling, buzzing, or high-pitched squeals are not normal and could indicate a serious and expensive problem with your existing unit.
If you notice that your home isn't getting as warm as it used to, despite your best efforts to adjust the thermostat, it could be a sign that your heating element is no longer functioning efficiently.
Blue Label For Your New Furnace Or Heat Pump
The team at Blue Label prides itself on providing quality heating services and exceptional customer service. Here are some reasons why you should choose us for your heating installation needs:
Customers Are Treated Like Family - We believe in treating our customers like family. As a family-owned and operated business ourselves, we take the time to listen to your concerns and recommend solutions that fit your unique needs.
Free Estimates - We offer free estimates on all new heating units. This means you'll know exactly what you're paying for before any work is done.
Upfront Pricing - We believe in transparency when it comes to pricing. We offer upfront pricing for all of our heating services so you know exactly what you're paying for before any work is done.
Open Communication - Honest and open communication is the cornerstone of our core values. If we find an issue during your heating service, we'll communicate with you clearly and honestly about what needs to be done to fix the problem.
Financing Options - We understand that a new heating unit can be a significant investment. That's why we offer a number of convenient financing options to help you get the unit you need without breaking the bank.
It's A Great Day At Blue Label
If you'd like to schedule a heating installation quote or service, please contact us today. Our team of expert HVAC technicians is ready to help you find the best heating solution for your unique needs in Northwest Houston.