Residential AC Repair Service Near Cypress, TX
With the high levels of heat and humidity that we experience here in the Greater Houston area, a broken air conditioner can lead to a good amount of discomfort for you and your family. At Blue Label Services, AC repair is our specialty! Whether you need a large air conditioning repair or just a simple fix, our team of HVAC professionals is here to provide a solution. And with our upfront pricing and open communication, you'll be glad you decided to give us a call!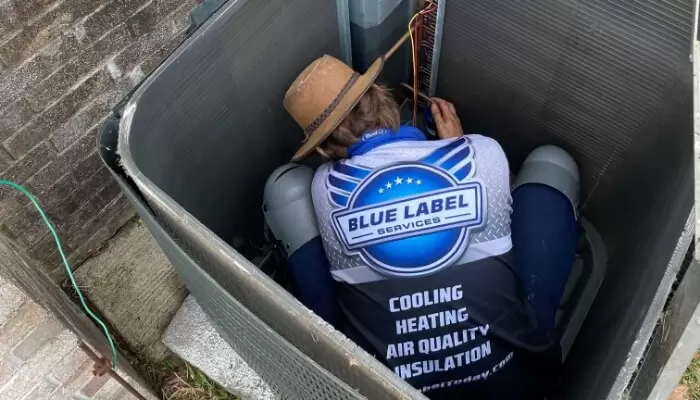 Signs You Need An AC Repair
As uncomfortable warm and muggy air is practically a year-round occurrence in this part of Texas, you and your family are going to want to be closely attuned to the signs that your AC needs repairs. Of course, the most obvious sign that you need an AC repair is that the vents are no longer blowing out cold air. But other than that, there are more subtle signs that your system requires repairs from one of our HVAC professionals at Blue Label Services.
During the summer especially, you can expect humid weather outside, but that doesn't mean the stickiness should extend to the inside of your house. A functioning AC system should also moderate moisture levels in the air, so if you're noticing unusual levels of humidity inside, we'll diagnose the issue.
If you smell unpleasant or unusual odors and suspect they may be coming from the AC system, you'll want to deal with the issue. Luckily, a simple diagnostic visit can tell you what types of AC repairs are necessary.
Most air conditioning systems make a low-level noise as they start up and shut down, but if you're hearing loud or unusual noises, it could be a sign of trouble. Rattling or buzzing could indicate a loose part while whistling or grinding can sometimes signal a more serious issue.
Your air conditioner runs on refrigerant to cool your home and may produce condensation as it operates. However, neither of these liquids should leak into your home, and if they do, it could be a sign of trouble.
AC Units We Repair
Here at Blue Label Services, our team of HVAC professionals can handle AC repairs from a variety of different air conditioner units. They include:
We also provide installation and maintenance services on all of these types of systems.
Why Choose Blue Label for AC Repair?
Our technicians always show up on time and deliver an experience that goes beyond what is expected. Our team is experienced and trained in the art and science of air conditioner repair, as well as licensed and insured for your protection. We make sure to offer a warranty on all air conditioner parts that are installed and a guarantee that if one of our repair jobs fails within three years from the time of service, we will fix the same repair at no charge.
Blue Label Means Quality Service - Every Time
If you're experiencing issues with your home's heating or cooling systems, call our experts at 832-734-8277 to schedule a repair appointment, set up an air conditioning maintenance program, and more. After an appointment is set, we come to your home and scope out the problem. Our professionals provide a flat-rate quote for air conditioning repairs or maintenance. We provide timely repairs with care and professionalism. Connect with us today to get started on superior service!