Air Conditioning Tune-Ups Near Cypress, TX
The weather in Texas is no joke. It gets hot here - and reliable air conditioning is an absolute must-have. Regular maintenance can help your home's air conditioner run better, save you money on energy bills, prevent costly repairs, and extend the lifespan of your system. Here at Blue Label Services, we offer AC maintenance services to ensure your system is functioning at its best so your home stays cool even in the hottest TX weather.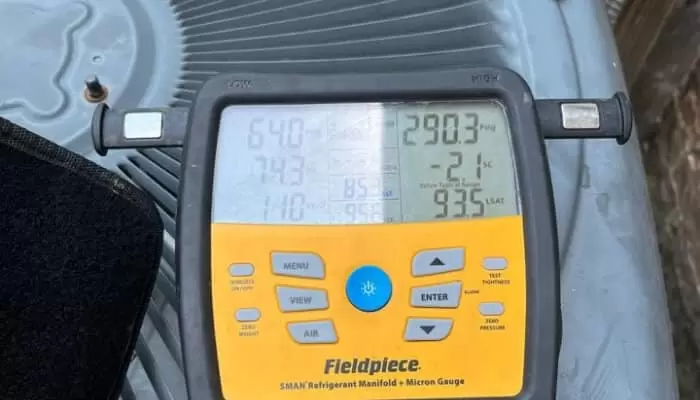 Reasons to Have Annual AC Maintenance
Helps Your AC Run Better
When your air conditioner is well-maintained, it will provide better cooling performance and improve the indoor air quality of your home.
Saves Money on Energy
By having your AC system serviced regularly, you'll ensure that it's running at peak efficiency. An air conditioner has to work hard to cool your home. If running more efficiently, it can result in significant energy savings over time. In fact, studies show that simply having regular maintenance done annually can lower energy bills by up to 15%.
Saves Money and Convenience by Avoiding AC Repair Bills
Regular maintenance will catch small issues with your cooling system before they become major problems. This service prevents costly repairs down the road and ensures that your AC system is working properly when you need it most. Additionally, regular maintenance can prevent breakdowns during the hottest months of the year, saving you from the inconvenience of living without air conditioning.
Extends the Lifespan of Your System
By taking care of your AC system with regular maintenance, you extend the lifespan of your system. Not having to replace your AC unit as soon will save you time, money, and hassle!
Join the Blue Diamond Club
Blue Label is happy to offer membership in (what we consider) the most exclusive club in town! With a Blue Diamond Club membership, you'll receive regular maintenance visits as well as discounts on services and other perks. Each plan includes two annual visits where we'll clean and inspect your system to catch any potential issues before they become major problems. Sign up for our plan today and keep your system well-maintained the convenient way!
Blue Label Services - Where You're Treated Like Family
Blue Label Services takes pride in providing expert work with a friendly feel. Our family-owned and operated company tends to treat our customers like we'd like to be treated - with respect, honesty, and integrity. Just like we would treat a member of our family, we treat our customers the same way. Call now at 832-734-8277 and see the difference!