New Air Conditioning Replacements Near Cypress, TX
If you live in the greater Houston area, having a functional air conditioning system is a must. Maybe you're moving into a new home and need a brand-new air conditioner. Or perhaps your older home needs a replacement for a system that's had air conditioning repairs one time too many. Either way, the HVAC professionals at Blue Label Services are the local pros you need for AC installation. Our highly trained staff will make sure that everything goes as smoothly as possible so you and your family are cool and comfortable! Call now for a free quote at 832-734-8277 !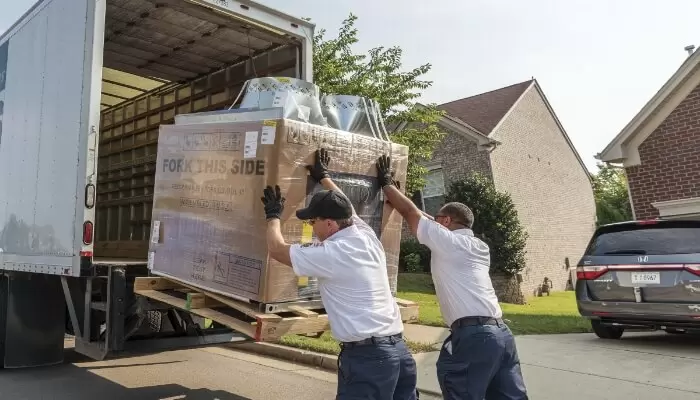 How much does a new AC unit cost in Texas?
The cost of a new air conditioning unit in Texas can vary greatly depending on criteria such as unit size, efficiency, brand, and installation complications. Basic units can start around $2,500 to $4,000, while more complex and larger systems can cost $5,000 to $10,000 or more. Regional variances, contractor rates, and unique features all have an impact on the price. To get an accurate quotation, acquire quotes from local HVAC contractors who understand your specific needs and region.
What is the life expectancy of a new air conditioner in Cypress, TX?
The life expectancy of a new air conditioner in Texas typically ranges from 10 to 15 years. Factors affecting longevity include maintenance frequency, usage intensity, and environmental conditions. Regular upkeep, such as annual tune-ups and filter changes, can extend its lifespan. High temperatures and humidity in Texas can lead to increased wear and tear, potentially shortening the unit's life. Considering local climate and maintenance can help you manage and maximize the AC unit's performance and durability.
Signs You May Need A New Air Conditioning System
Air conditioning systems do not last forever. Over time, they become less efficient and need to be replaced. If your AC system is on the older side, then there is a good chance that you will benefit from replacing it. Here are some of the most common signs that you need to get a new AC installed.
The most obvious sign that your AC is experiencing issues is a lack of cool air. If you turn on your unit and cool air does not come out within a few minutes, it could mean a number of things - from something simple like a clogged air filter to something more complicated like replacing the evaporative coil. Depending on the severity of the issue, the wise choice could be to replace instead of repair.
While all AC units create some moisture, too much can be a cause for concern. If excessive moisture or leaking is present around your AC unit, you could have a refrigerant leak. This can cause a serious health risk to you and your family and may lead to the necessity of an air conditioner replacement.
Your AC should be cranking out neutral-smelling, clean air. If a problem exists, the unit will sometimes create bad smells which could indicate the end of the unit's lifespan.
If your AC is noisier than it used to be, it could be a sign of trouble. Clanking, grinding, and squeaking are all sounds that poorly performing AC systems make.
Blue Ribbon Service From Blue Label
If you suspect that your AC system may be on the fritz, contact Blue Label Services and we'll come out and take a look. We'll explain your repair and installation options, as well as the different units that we have in stock. At a later date, we'll visit your home again to complete the installation.
With all the available HVAC companies in Houston, why should you choose Blue Label Services?
On Time - We respect your time which is why we are sure to arrive promptly on time. If there is ever a situation where we won't be able to make our appointment, we'll make sure to be in touch to let you know.
Warranty and Guarantee - Our installations come with not only factory warranties but our company guarantees, ensuring our expert work and service on your new system for many years to come.
Experienced and Trained Technicians - We are only as good as our team members. Our techs have years of experience in the field and have the knowledge and know-how to install your system properly.
Licensed and Insured - Our company and team members are licensed and insured for our protection and yours.
Financing - We are proud to partner with many different financial institutions to bring our clients different monthly payment options when purchasing a new HVAC system.
Get in Touch for Your Free Quote On A New AC!
Whether you need a fresh AC installation, a replacement for your current system, or an AC maintenance program, call Blue Label Services at 832-734-8277 for a free quote. We look forward to working with you soon!