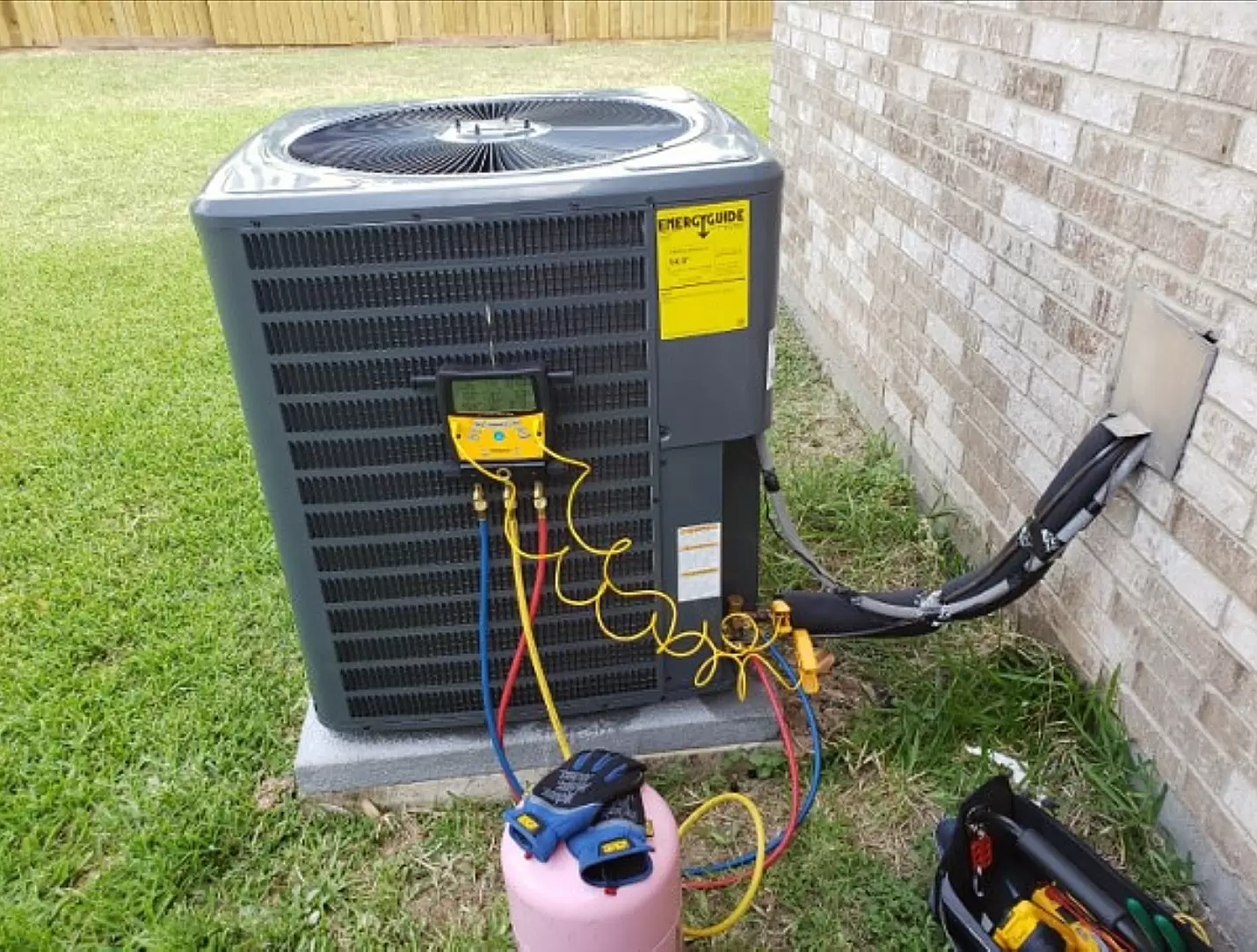 Now that we're in the heart of the sweltering Texas summer, a broken AC for even a few hours can lead to discomfort for you and your family. If you're asking questions like "why is my outside AC unit making a loud noise?", you're not alone. Air conditioner noises can range from completely harmless to having the potential to completely derail your entire air conditioning system. 
Here at Blue Label Services, our Texas cooling and heating services company can diagnose the AC noises ranging from common to obscure. If you're hearing any of the following AC noises, be sure to reach out to our Cypress, TX HVAC contractors. 
Buzzing Noises
A loud buzzing sound coming from your air conditioning system could be an indication of an underlying electrical issue. More specifically, it could be a problem with:
Condenser fan motor

Contactor relay switch

Loose wiring
Because electrical issues can be dangerous, it is best not to try to diagnose the problem yourself. Contact our HVAC professionals for repair. 
Squealing Noise
If your AC system has started to make a squealing noise, you may need to get the belt replaced. This is an easy repair for our team to make, and we can get your AC back to running normally again in no time. 
Hissing Noise
A hissing sound coming from your indoor or outdoor AC unit is possibly indicative of a refrigerant leak from either a line or coil. It is important to get this issue taken care of right away because if you neglect the squealing noise, it could cause your entire AC system to fail and become more expensive to repair. Refrigerant leaks can also be dangerous, so contact our Cypress, TX contractors for repair. 
High-Pitched Squealing Noise
A squealing sound that is particularly high-pitched usually means that your AC system is experiencing high internal pressure built up in the unit's compressor. Although compressors typically have a sensor that will signal the air conditioner to shut off if the pressure gets too high, these can malfunction. If your AC is making this noise, shut off your unit and contact us.
Rattling, Thumping, Clanking, or Banging Noises
If a rattling or banging sound starts to come from your AC system, chances are something has come loose or is broken and is now blowing around in the condenser unit. The loose object could range from a nut or bolt to a fan blade. No matter what it is, turn off your HVAC system and contact a professional. 
If you're hearing rattling or thumping, it could also mean that there is an issue with the assembly motor or blower. It may mean that a small component of the air conditioning system has come loose inside the unit. 
Cypress, TX Air Conditioner Repair
Whether you're hearing squealing, banging, hissing, or something else, it is important to contact our professionals promptly for repair. Delaying could lead to a malfunctioning unit and a more expensive replacement. 
Contact us today at 832-968-8630.