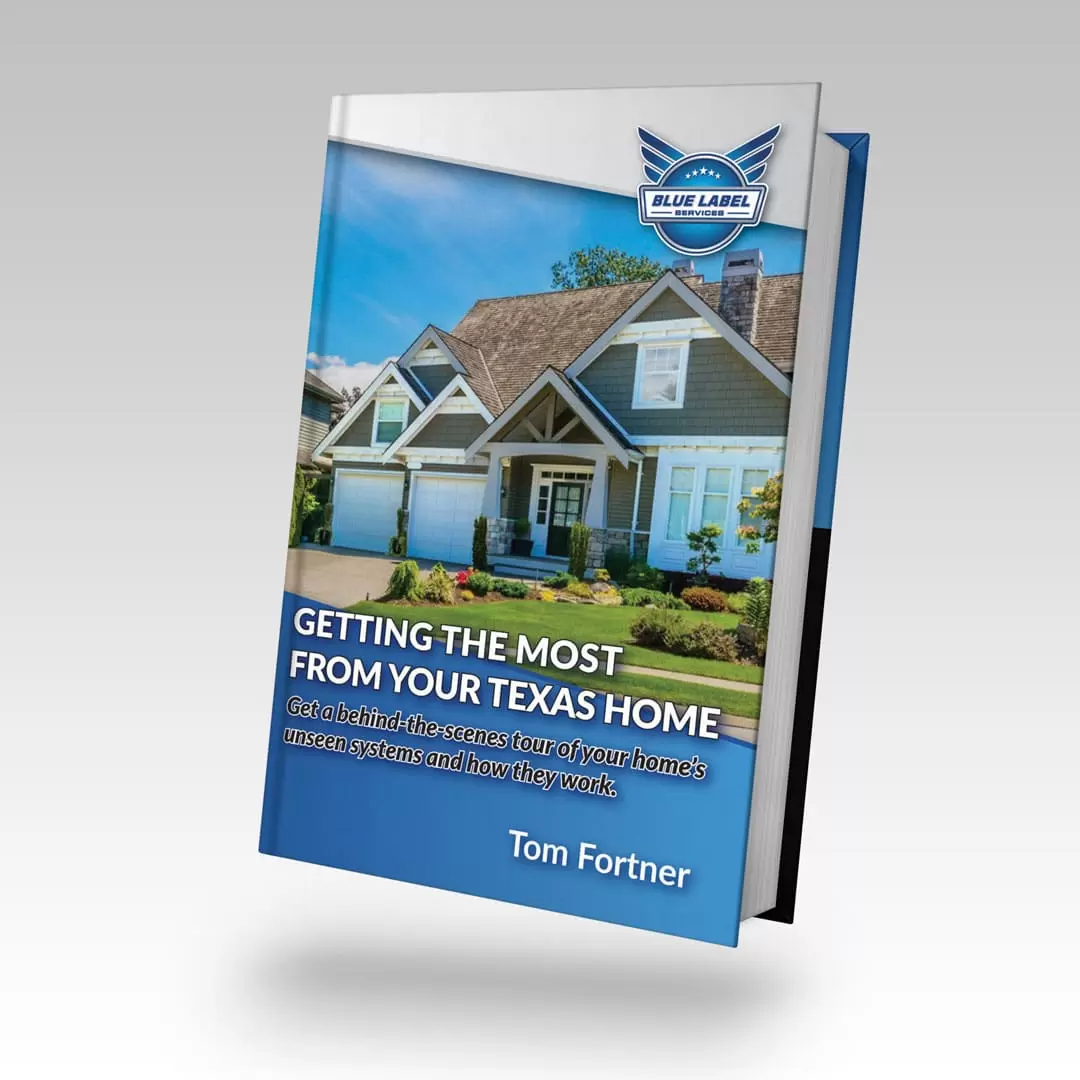 By Jennifer Schemke
As a writer, who will happily write whatever needs writing, I'm always interested in the writing process, but I'm particularly inspired by authors who aren't necessarily writers "first", but are so passionate about a subject they simply must write about it. Tom Fortner is one such passionate author. Tom owns Blue Label Services, a heating, ventilation and air conditioning company servicing over 2500 homes in Houston, and the surrounding areas. Does Tom have time to write the next Great American Novel, tossing crumbled drafts at the wastebasket, hemming between this word or that? He most certainly doesn't. And yet, between the rigors of running a successful business, AC tune-ups, Indoor Air Quality tests, and maintaining a vibrant family life, he managed to publish his first book, "Getting the Most From Your Texas Home: Get a Behind-the-Scenes Tour of Your Home's Unseen Systems and How They Work", a lean but muscular 108 page "tool book" that empowers homeowners to increase the value of their homes, while keeping money in their pockets. Trained by his father, Bill (who's still very much active in the business), and with over 20 years of experience in the HVAC space, Tom felt a calling to share his accumulated wealth of knowledge. I had the opportunity to talk with Tom about his book (let's call it, the "Moby Dick" of the home improvement sector) and get some insight into the passion that fueled this project, and why it should be a title on your bookshelf (next to "The Grapes of Wrath.")
 What made you want to write this book? What was your inspiration?
Hi Jen! Thanks for taking the time to talk about my book. I was very excited to finally get it published. I guess you could say that I was inspired to write it because I wanted an easier way to communicate with our clients in Houston and Cypress, or any Texas homeowner who'd like to know more about how their home works. I wanted them to have a resource for getting the help they needed to live safer, healthier lives in the homes they own. They needed to be armed with a tool book to get the most out of their Texas home.
Nice! And why now?
It had been on the back burner for a couple of years but always in the back of my mind that I wanted to get this project done. With the pandemic, I had a little more time at home to finish and send it to the publisher.
You call the book a "Tool Book". Is this a how-to/DIY book?
I love that you asked this! The folks I wrote this book for are people who maybe don't have time to DIY a project right now. They value their productive time at work or making memories with the family and pets. There are so many resources out there for the How-To and DIY pros. This is the tool book for the home-loving Texans who want professional work done by a quality expert in their field. It will help them identify an expert, sort out the duds, and arm them with enough knowledge to understand the basics of their homes systems when communicating with these experts. It will give them peace of mind knowing they have the solution to almost any problem most homes may face.
You're a Texan, and this book was written with Texans in mind. What specifics have you put in place to enhance its regional relevance? Can it benefit homeowners in other States and climates?
 In the Houston area, you generally have a few different types of construction. Rarely do we find a home with a basement or, occasionally, a crawlspace. Most homes are on a concrete slab with the HVAC equipment in the attic. We have some on pier and beam and some on stilts (looking at you Galveston)! Most homes around Houston are either natural gas, electric, or propane heated, but the focus is on the all important
A/C. With an average humidity just below 80% and temps in the 100°s in summer months, there's a focus on cooling with heat taking a backseat, unlike most northern states. We have a lot in common as well. In fact, most systems in your home are remarkably similar to those found all across the country.
So all homeowners can benefit. What will a homeowner gain by reading this book? What do you hope they'll take away?
I hope it eases their anxiety about taking care of a home, and I hope they can use it as a reference when they have a question or aren't sure who to call about a problem.
What's your favorite thing about Texas?
The diversity of it all! There are completely different landscapes and climates, a melting pot of food and restaurants, business opportunities, and friendly people. It's where I met my wife and had our kids, so Texas will always be my home state.
Where can someone find the book? (And do you think it would make a good Father's Day gift?)
It's a good any day gift, if you ask me! You can find it on Amazon.
Great! And on behalf of myself and all homeowners, thanks, Tom!
Thank you!
You can find "Getting the Most From Your Texas Home: Get a Behind-the-Scenes Tour of Your Home's Unseen Systems and How They Work" at https://www.amazon.com/Getting-Most-Texas-behind-scenes/dp/B08TQDLRZR/ref=sr_1_1?dchild=1&keywords=Getting+the+Most+From+Your+Texas+Home&qid=1617641799&sr=8-1
You can find Tom and his team at: https://bluelabeltoday.com/
Jennifer Schemke is a freelance writer specializing in helping businesses with blogs, copywriting, video scripts, product description, and more. Her own passion projects are usually comedy-related, mostly intentionally. Find her at: www.theschempirewrites.com